My 4yr old Akc registered tan and brown male and my 3yr old female Isabella dapple(I believe mini chiweenie, her snout is just short I think)not registered as of yet will probably ckc as a mix breed just had their first litter of babies on Sunday . I'm going to give a little back story so hopefully not to be to poorly judged or ridiculed. I always intended on breeding these two dogs together she was purchased to be his mate but I intended on keeping three pups for myself and any additional pups would be given to family who were interested. For three years we have always kept them separate during her heat cycle we have been waiting to breed her. We wanted to make sure that we had the time and space to accomodate the new additions. Well needless to say I was incorrect in assuming her cycle was over and they hooked up and made babies. I still have not decided whether we are going to keep them or sell them. We are expecting out second baby in April and I am already on restrictions for this pregnancy so I'm not sure our home right now will be the best place for the puppies. The family member who was interested in any future puppies is no longer a family member so that option is out. Pups will be checked out by vet and have health guarantee, shots, potty trained, and raised around dogs, cats and kids. Mom and dad are both wonderful dogs with great temperament, who are healthy and will be papered should I decide to sell mom will be ckc dad is already akc. I paid $350 for mom and $600 for dad. My questions are pretty generic and probably sound stupid but here it goes.
1) If I sell the puppies how much do I ask? Both are female one is black and tan like dad other is a wild boar dapple.
2) Even though I am not a breeder can I require applications /interviews? And maintain correspondence with new owner to insure no removing of pups and they are healthy and happy with no issue?
3) Can I pay/contract so new owners will spay pups so they are not being breed? ( I know this is extremely hypocritical of me, but I never wanted to breed to sell and don't want these babies to be over breed for someone's financial gain)
4) At what point do I need to make up my mind if I am keeping them and start looking for prospective owners in my area? Like is there an age at which the removing process is harder on the momma and on the puppies or does it not matter?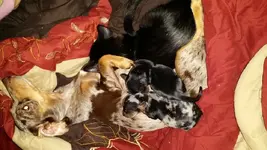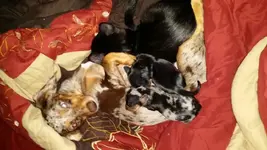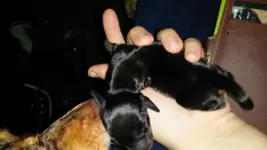 Her maternal instinct has extended to my daughters kitten, she's not a part of the litter Lol.